[Review] Raidmax Seiran
Seiran
Packaging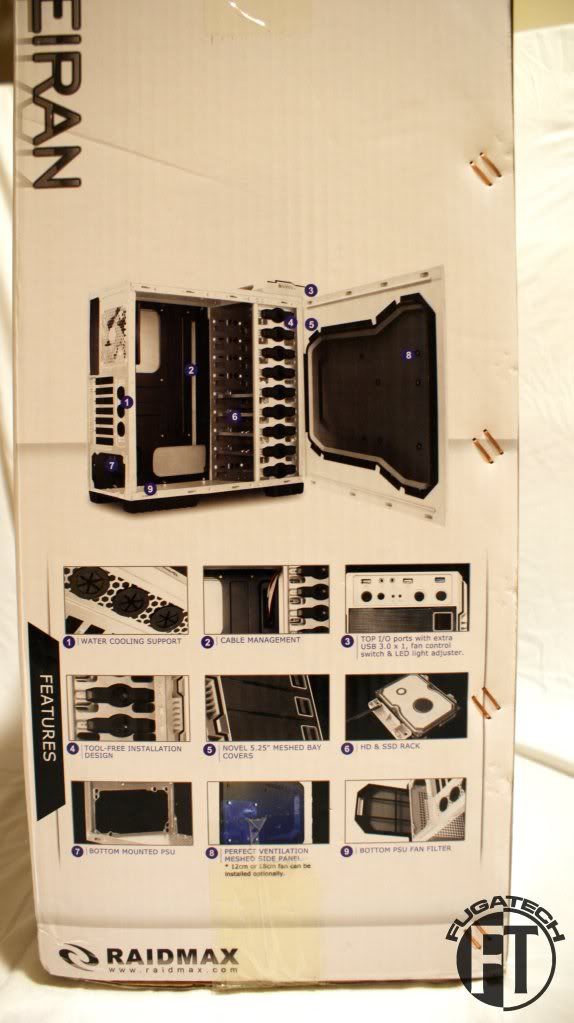 Normal case box. Very colorful and eye catching. One side shows you that the case comes in 3 different colors and has pictures of each and the other gives you a few quick features. You can see the sticker down by the UPC that tells you the color of the case inside the box.
The case was packed well. It had the 2 closed-cell foam ends but what was new is that they were reinforced with cardboard. The case was also in a thick plastic bag to keep it from getting scratched.
Specifications and Features
I grabbed some info from the Raidmax website. As you can see below, this is an average mid tower that comes in 3 different colors. Two things that makes this case unique are the drive bay trays and that the side panel is mostly mesh instead of a window. (More on both of those later)
*From the Raidmax website*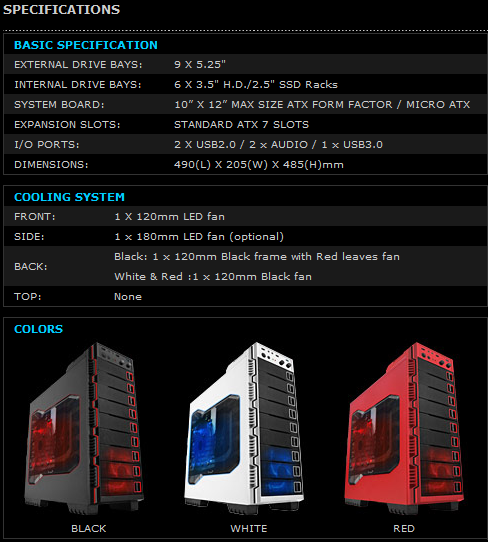 A Closer Look
The front of the case has a nice look. It features 9 bay covers which are all removable but only 8 of them have the "One-Click" latching system.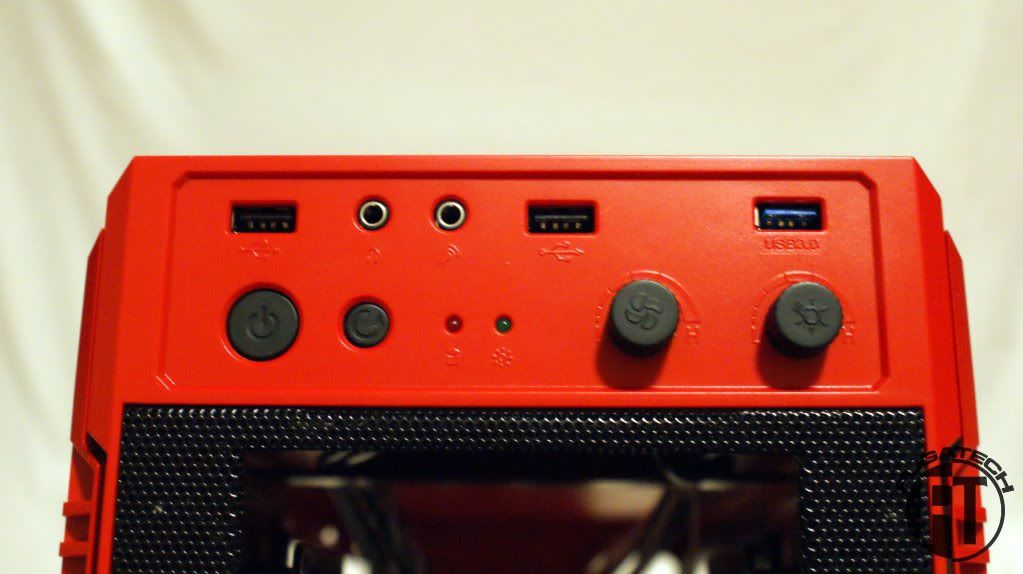 The front you will see the I/O panel has all the normal items like 2x USB 2.0, Headphone and Mic jack, Power and reset buttons but it also has 2 extra knobs on it which control the lights and fan speeds on 3 different fans. Now for this to work you have to have a specific kind of fan but the case comes with 2 of them so your all set.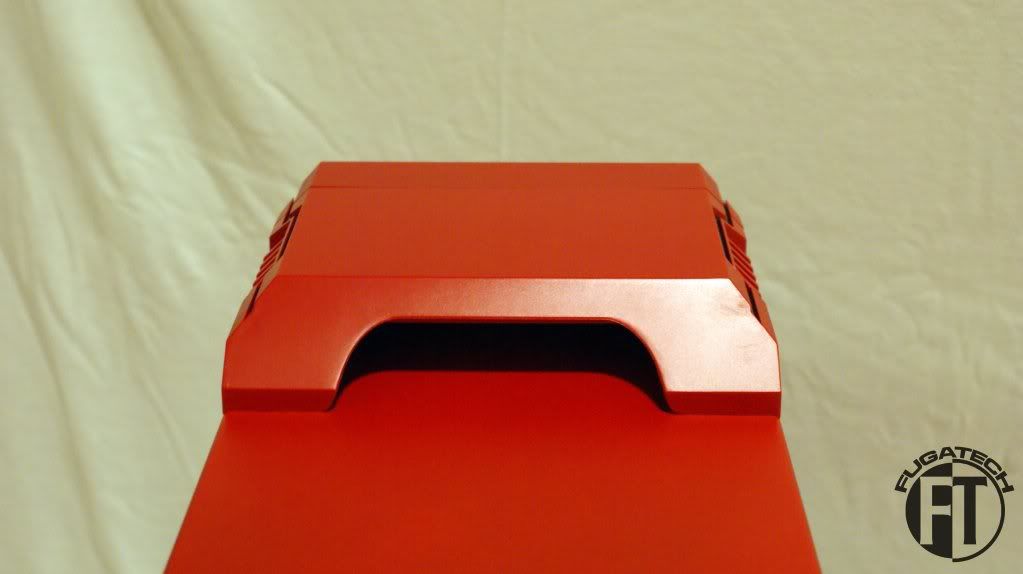 The top of the case has a great little handle for making it easier to carry the case. I wouldn't trust it if your going to completely cram this case full of hardware but it proved useful to me.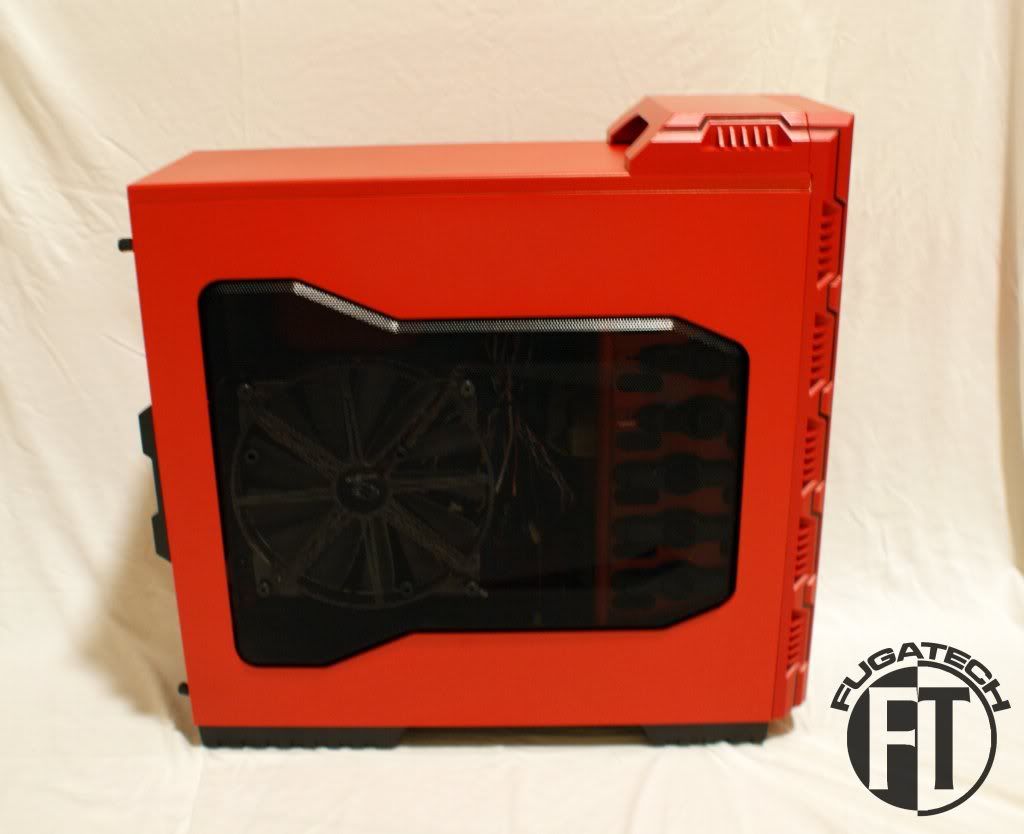 The side of the case features a rather large mesh window. There are mounting holes in the mesh for a 200mm or 140mm fan. The nice thing about these mounting points is that they have rubber grommets in them already to keep the fan quiet. I do wish this "window" was a bit smaller because I do not like that you can see the front bays through it.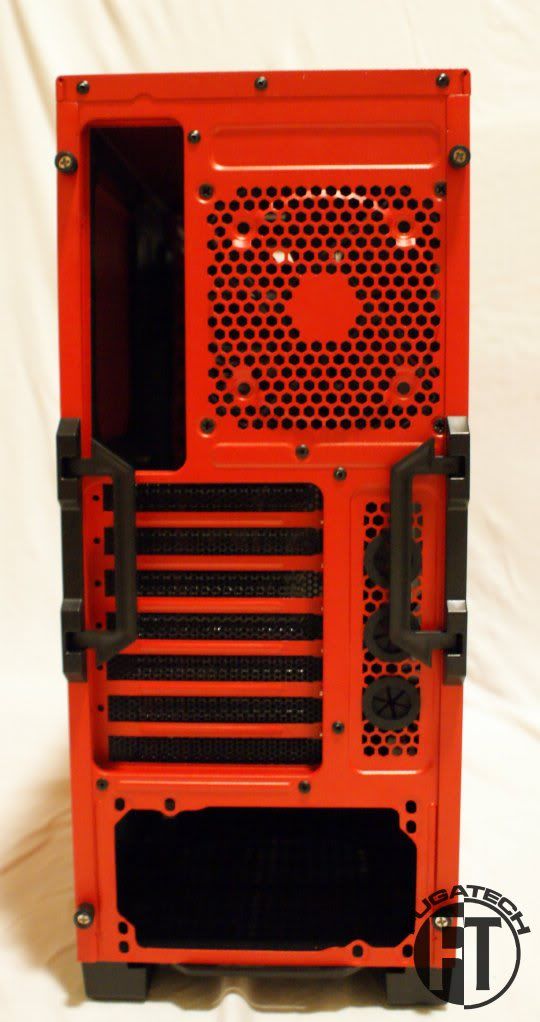 The back of the case is pretty standard. It has 7 PCI slots, 3x 1/2″ watercooling routing holes, PSU mount and a spot for either an 80mm or 120mm fan. A 120mm fan comes with the case. It seems that Raidmax now standardizes side panel handles which makes removing and installing the panels so much easier.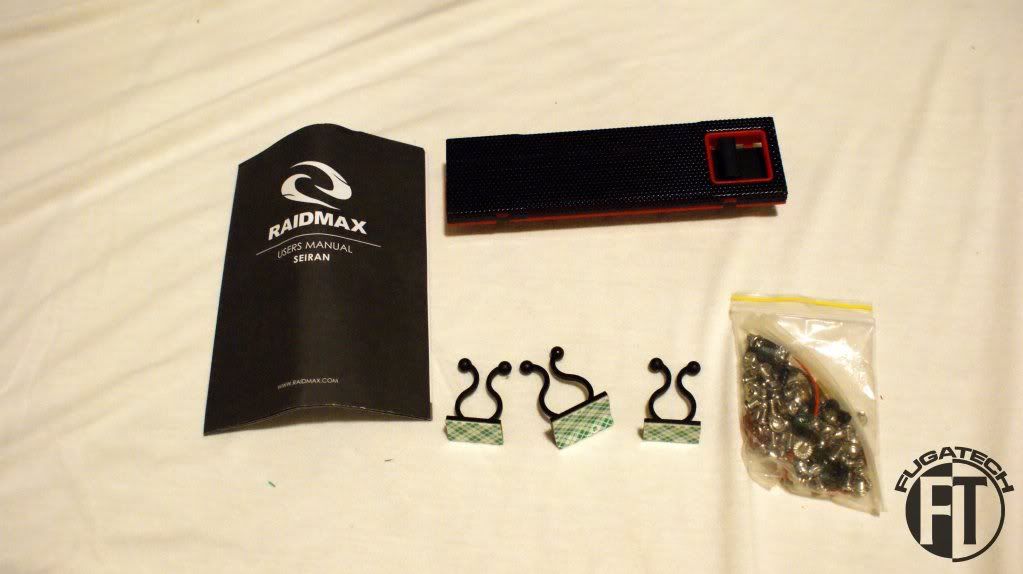 The case comes with very little mounting hardware although the cable thumb locks are a nice addition.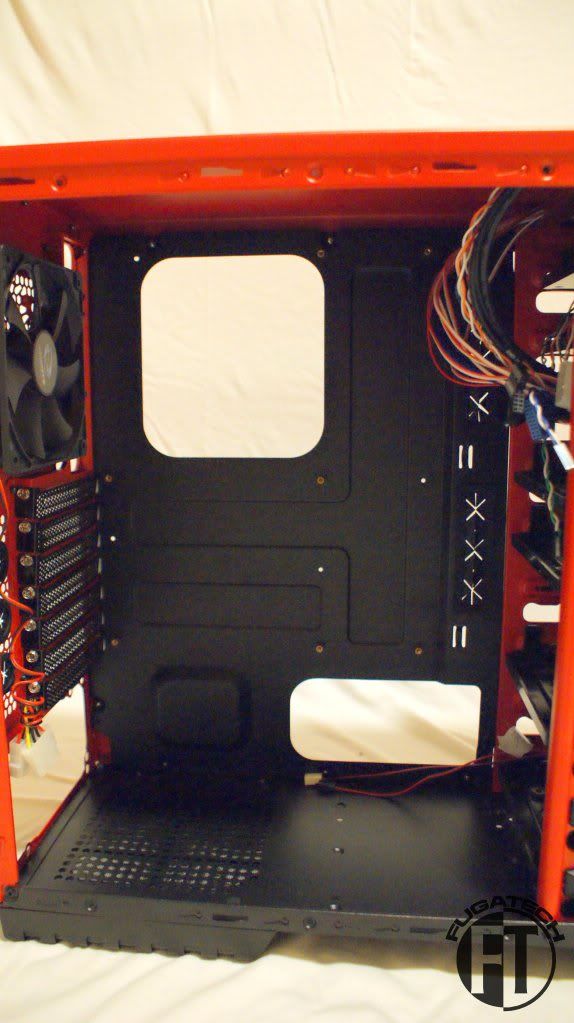 Moving inside the case you can see that there are 3 cable routing spaces. Thats great but there is almost no space behind the motherboard tray to route cables. Below I installed a small 400W PSU and routed the 24pin ATX cable behind the motherboard tray and it just barely fit. I say barely because it was a struggle to close the side panel again once the cables where there. There is no way that you would be able to do this with a higher end PSU because they are normally sleeved and use a heavier gauge wire.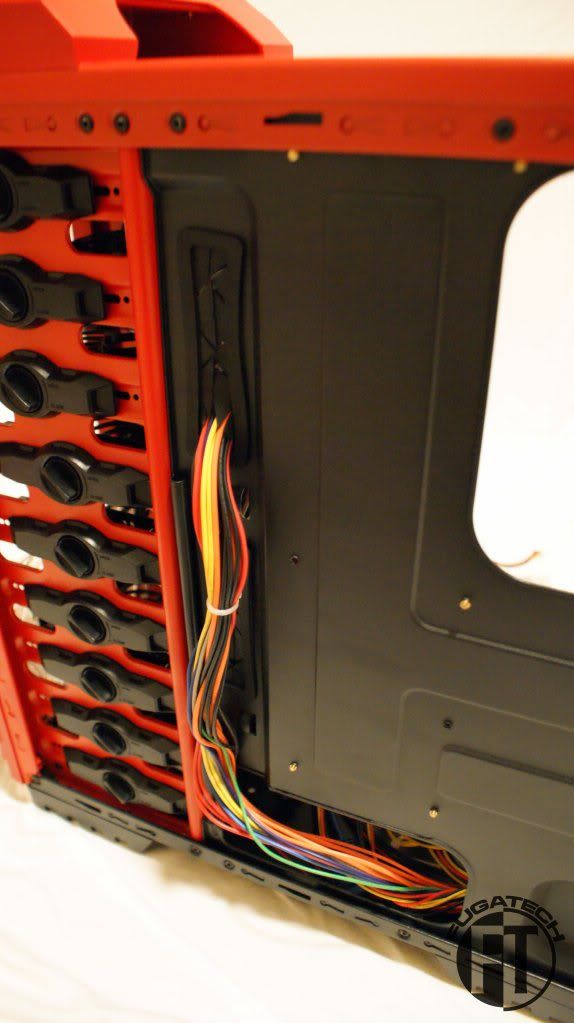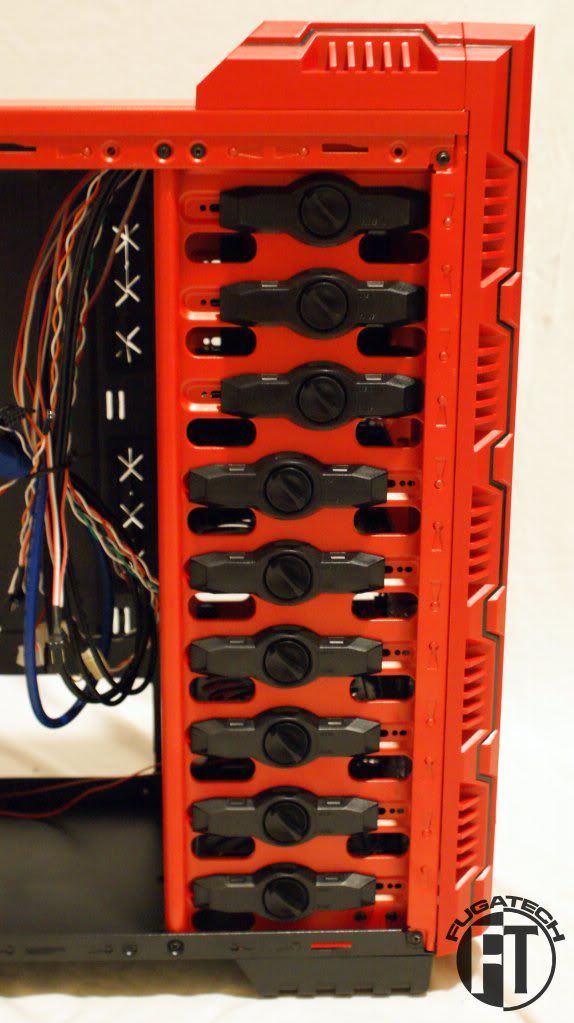 The 5.25″ bays all use a tooless mounting system. I am still surprised at how sturdy they are using such a basic lock.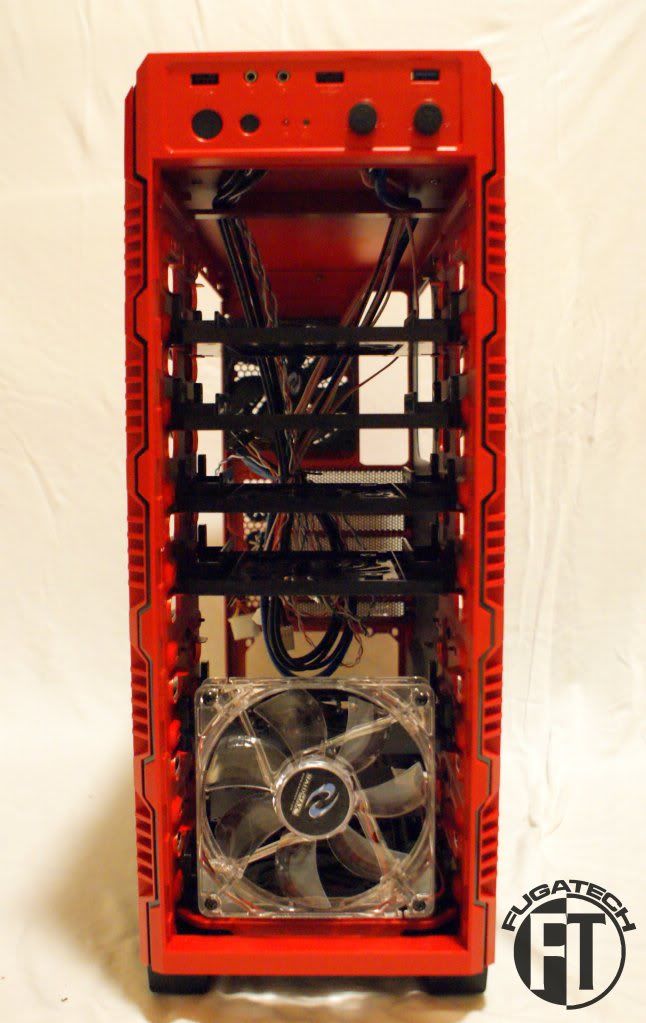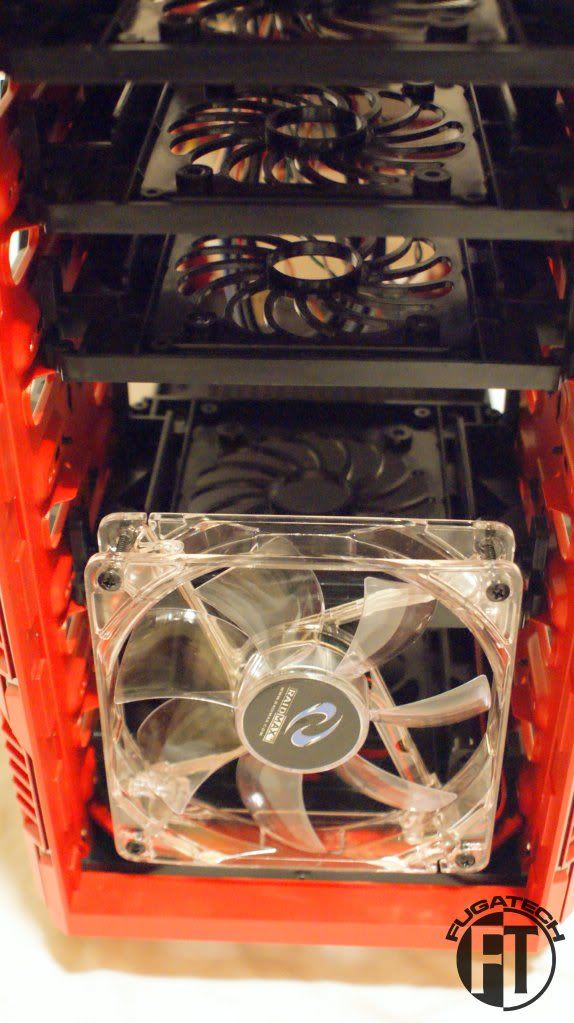 Once inside the front bay area you can see that the case comes with another 120mm fan which can be controlled by the front panel knobs. The case only comes with 6 HDD trays. I would have liked to have seen at least one for each bay. The bottom 2 are slightly different because they have front mounts for the 120mm fan. This does make for easy maintenance/replacement of that fan.
The HDD trays are rather unique because they have mounting holes for 80mm fans so if you have hot HDDs you can just put a fan under it to cool it better.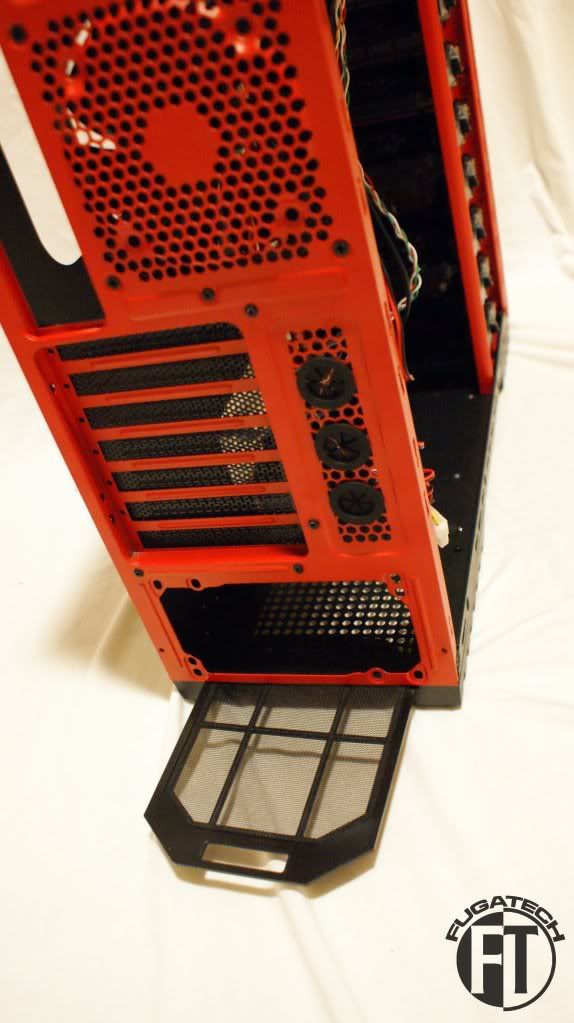 Under the PSU there is a removable dust filter. Not the best quality but it will do the job quite well.
Installation
System Specs:
XFX 650i
Intel C2D E6500
4 GB Corsair Value Select RAM
Rosewill Hive 750W PSU
Western Digital 80GB HDD
Galaxy GTX 460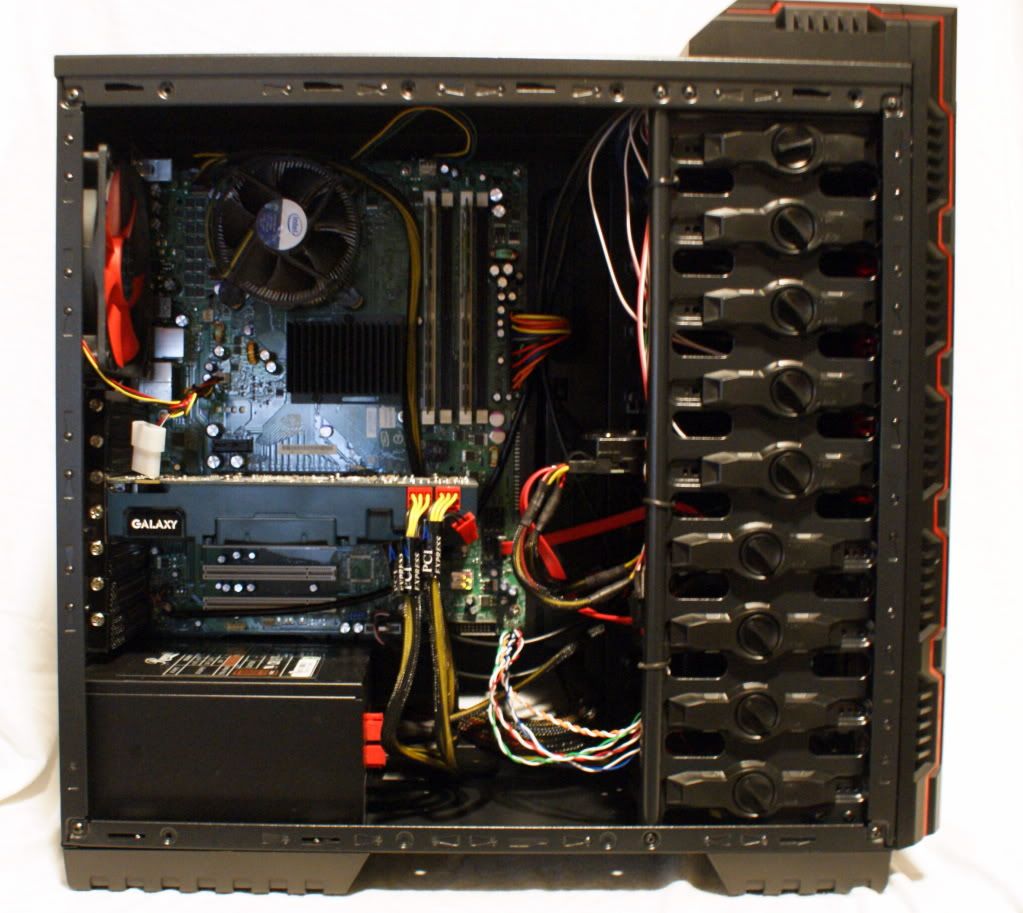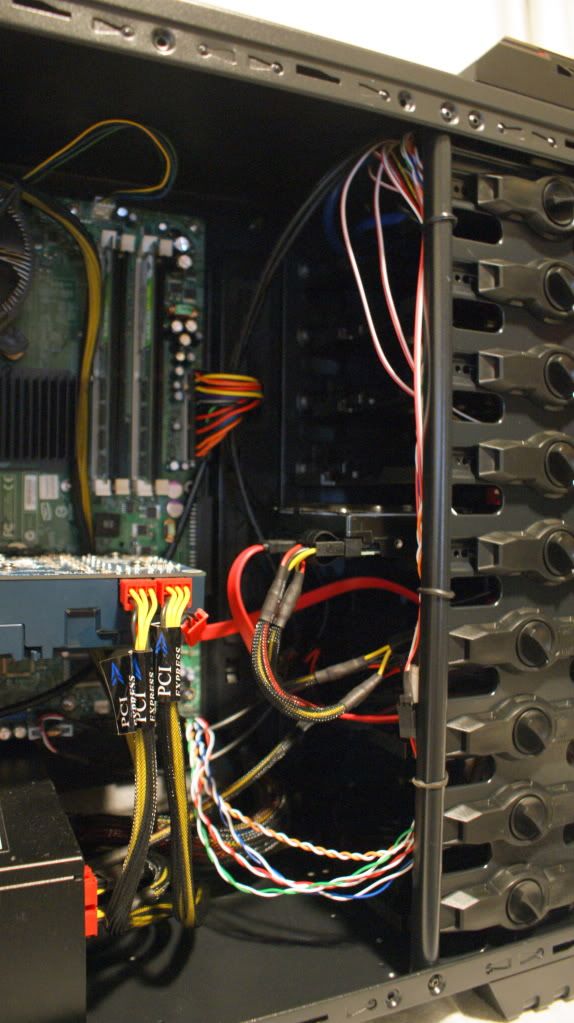 Installing a system turned out to be very simple and effortless. You will notice the case is now black. Raidmax had to send me a new case because there were several dents in the Red case and the front panel buttons did not work. This new case has a different back panel on it which gives you more room for cable management. I was surprised with how much more space it added. The 24 pin ATX cable fit easily behind the motherboard try now.
I was able to use a few twist ties to hide the cables and give the case an overall cleaner look. (For a permanent build I would use zip ties).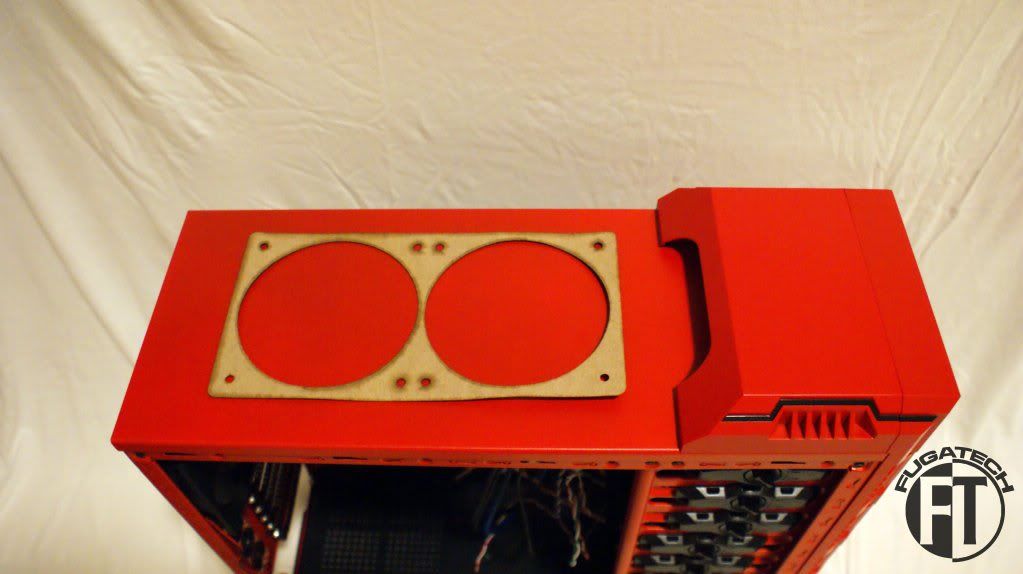 Since Raidmax sent me a second case, I decided to experiment with the damaged one. I have some radiator templates sitting around so I decided to see if I could watercool this case. I discovered that I could not make the cutout for a 360mm radiator, only a 240mm radiator. Due to the space limits above the motherboard, the fans and radiator must be mounted on the outside of the case.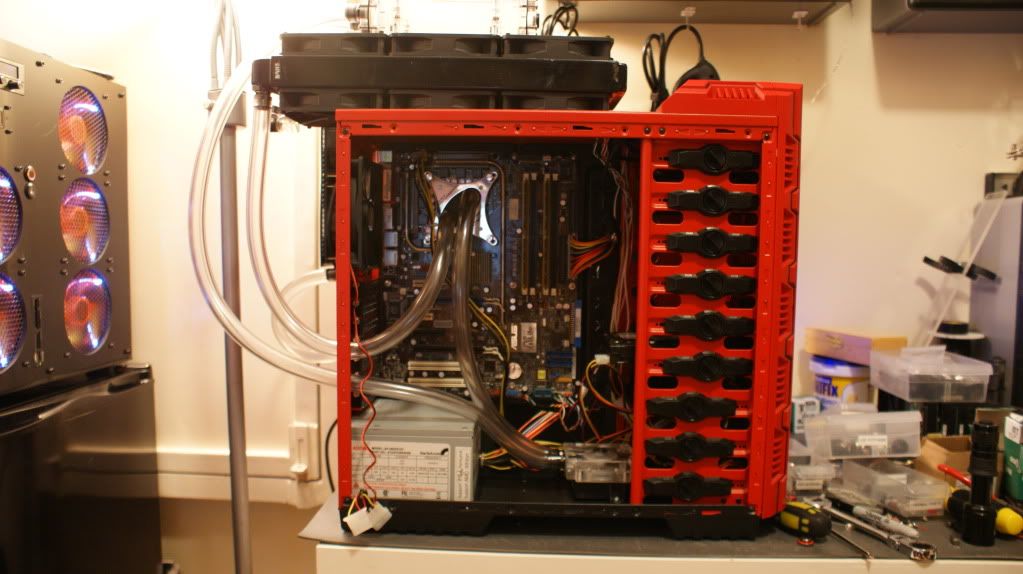 Here you can see that I put a 360 radiator on but only 2 of the 3 fans go through to the inside of the case. Although, you would be able to put a 240mm radiator in the 5.25″ bays using some custom brackets. Again, I wish a 360mm radiator would fit there but this is after all only a mid-sized tower.
Conclusion 
You can pick this case up for $89.99 at Newegg at the time of this review. I think I like the case because it reminds me of my old Antec 900 minus the top fan. It has plenty of room for your hardware and lets you mount 7 hard drives which would make this a great Home Server case.
Pros:
Good looking design
Tool-less 5.25″ bay locks
Large CPU cutout
Good placement of the cable management cutouts
Cons:
Small amount of space behind the motherboard tray for cable management
Need more HDD trays
No fans in the top of the case
I give the Seiran a 7 out of 10. I would probably rate this case a 9/10 if they would just add 2x120mm fans to the top of the case. That would make it so much cooler inside the case. I am happy though that they sent me a new case due to the issues I had with mine. I think it just maybe a QC problem and I hope they sort it out with their new cases coming out.